welcome to the first-annual edition of primitives wrapped! it's the last week of 2022 (pinch us!) and as we started to reflect on the year, we thought it would be fun to pull stats that told the story of how our community has grown and scaled over the past year.
it's safe to say that growing primitives has been a whirlwind. this time last year, primitives was just an idea on a piece of paper, and now, it's a living, breathing product with an incredible community of users. let's dive in on some of the details :)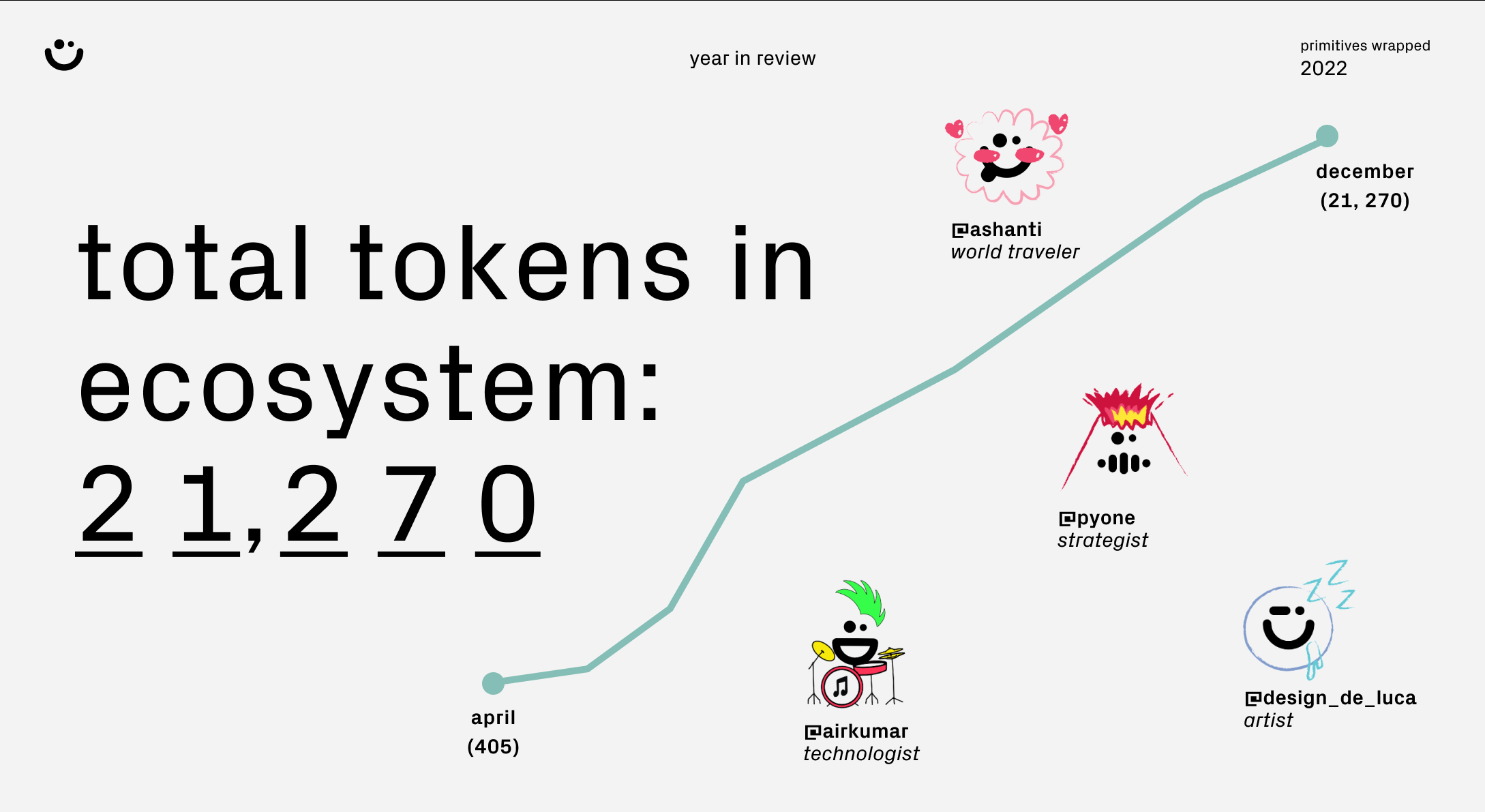 we started with a closed beta launch in april with our first users minting just over 400 tokens. flashforward to december 2022 and the primitives community has minted over 21,000 tokens.
what do we mean when we say tokens? on primitives, your profile photo is a token (we call this your primitive) and any moments you mint or collect are also tokens. this lets you control the ownership of your content. pretty cool.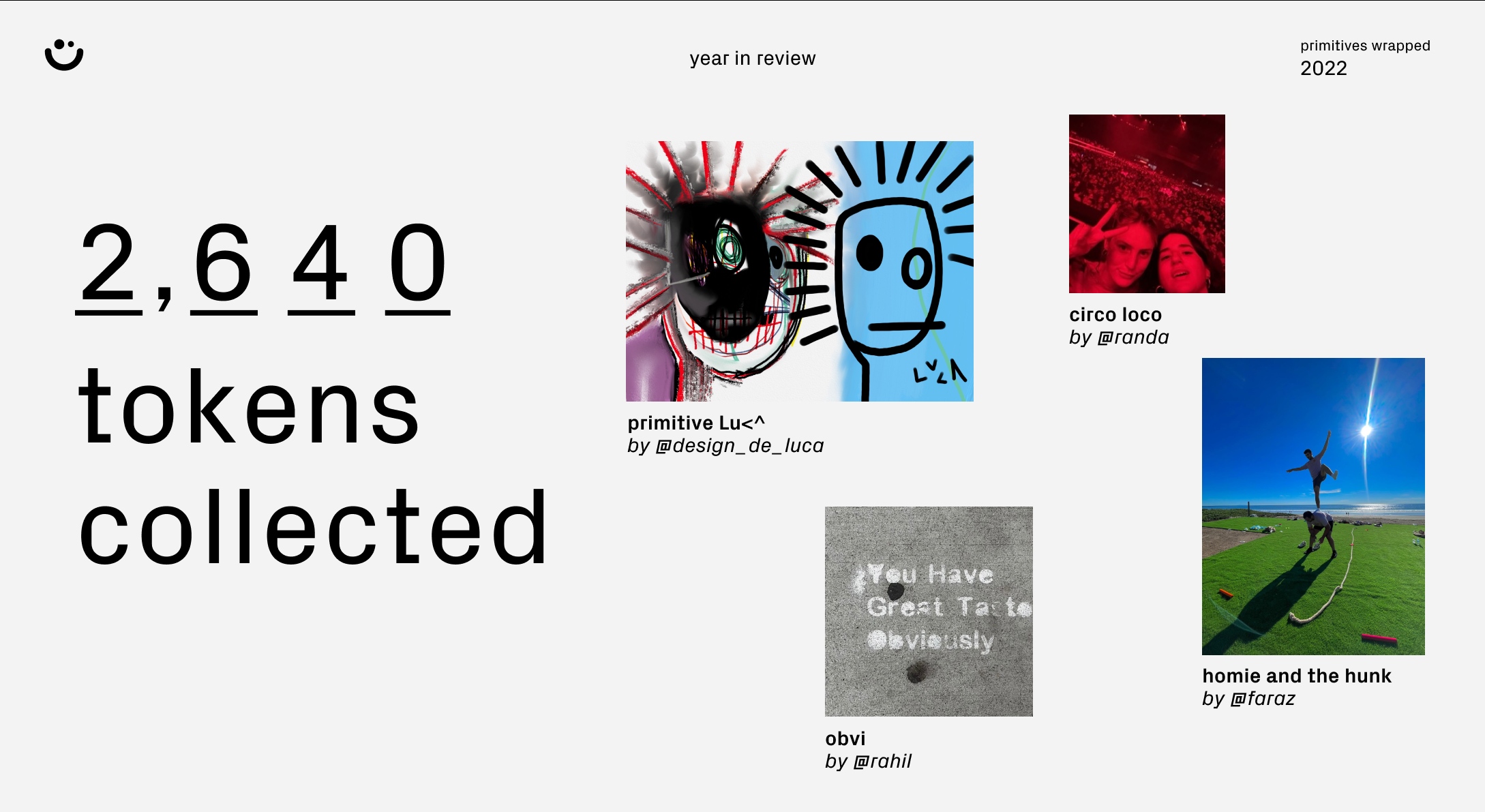 let's zoom in on collection: almost 2,600 tokens were collected over the past year. if you claimed a friends primitive or collected a moment, you helped contribute to this growth!
one of the coolest things about watching collections grow is seeing how members of our community have emerged as curators, letting tokens represent a piece of their digital identity. expect some exciting product updates in early 2023 to further power collection and curation 👀
a few of our favorite mints over the past year: luca's beautiful paintings, rahil's street art, faraz's wide-angle photography, and randa's memory.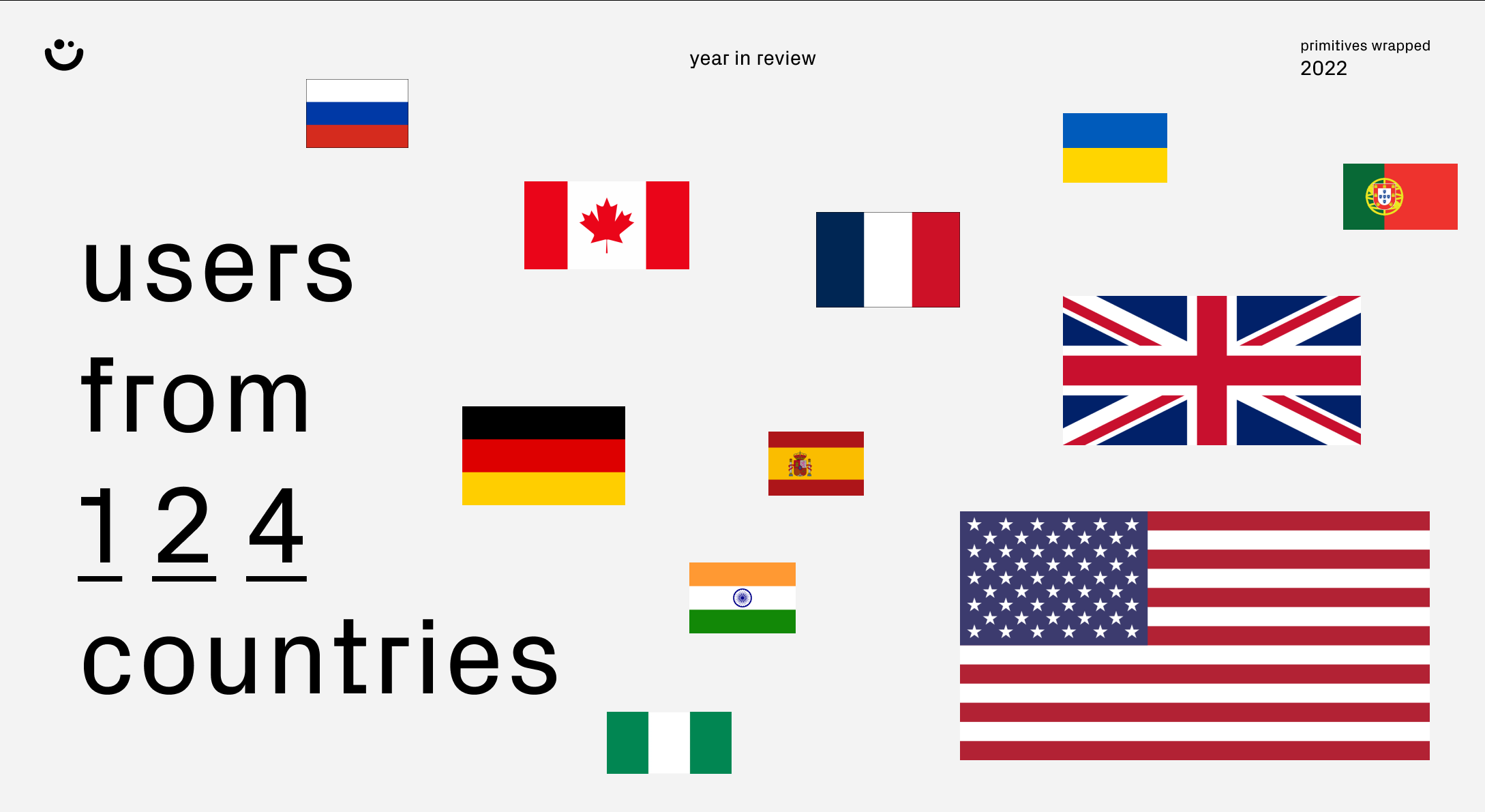 perhaps the best part about the past year has been seeing the extent to which primitives is resonating with people around the world. we've had users from 124 countries (thats actually 64% of the world!). you've come from france, the u.s., canada, the u.k., india, germany, and so many more places.
one might say that the heart of primitives is in new york: it's where we founded the company and where a majority of our team lives. but the soul of what we're building has always been global. we're thrilled that our user base reflects that.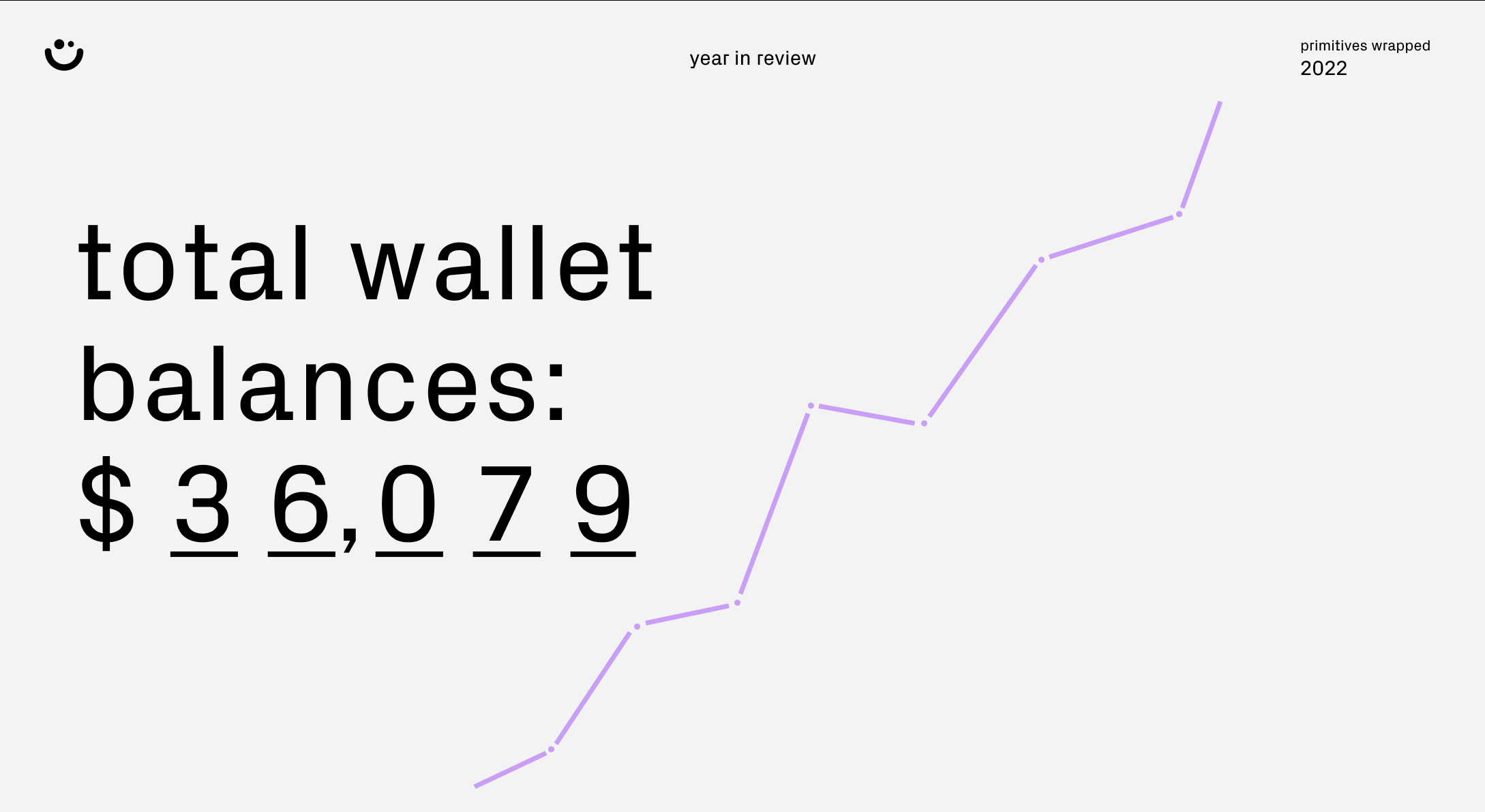 finally, we wouldn't be a creative wallet company if we didn't touch on the $$$ side of things. since we fully launched wallet connect in november, we've seen total wallet balances rise to over $36k. it's an exciting milestone and we're just beginning.
over the next year, our team is focused on building more wallet utility and implementing monetization. a phrase we've been repeating recently is that primitives is a place for creators to live in abundance, based off of their creations. wallets are the key to this :)
okay, that's a wrap! we are truly grateful to have you as a part of our community. thanks for supporting us as we work on building the most fun place to create, share, and collect moments online. you're a part of our treasured group of friends, family, and early supporters. we're excited to be building alongside you.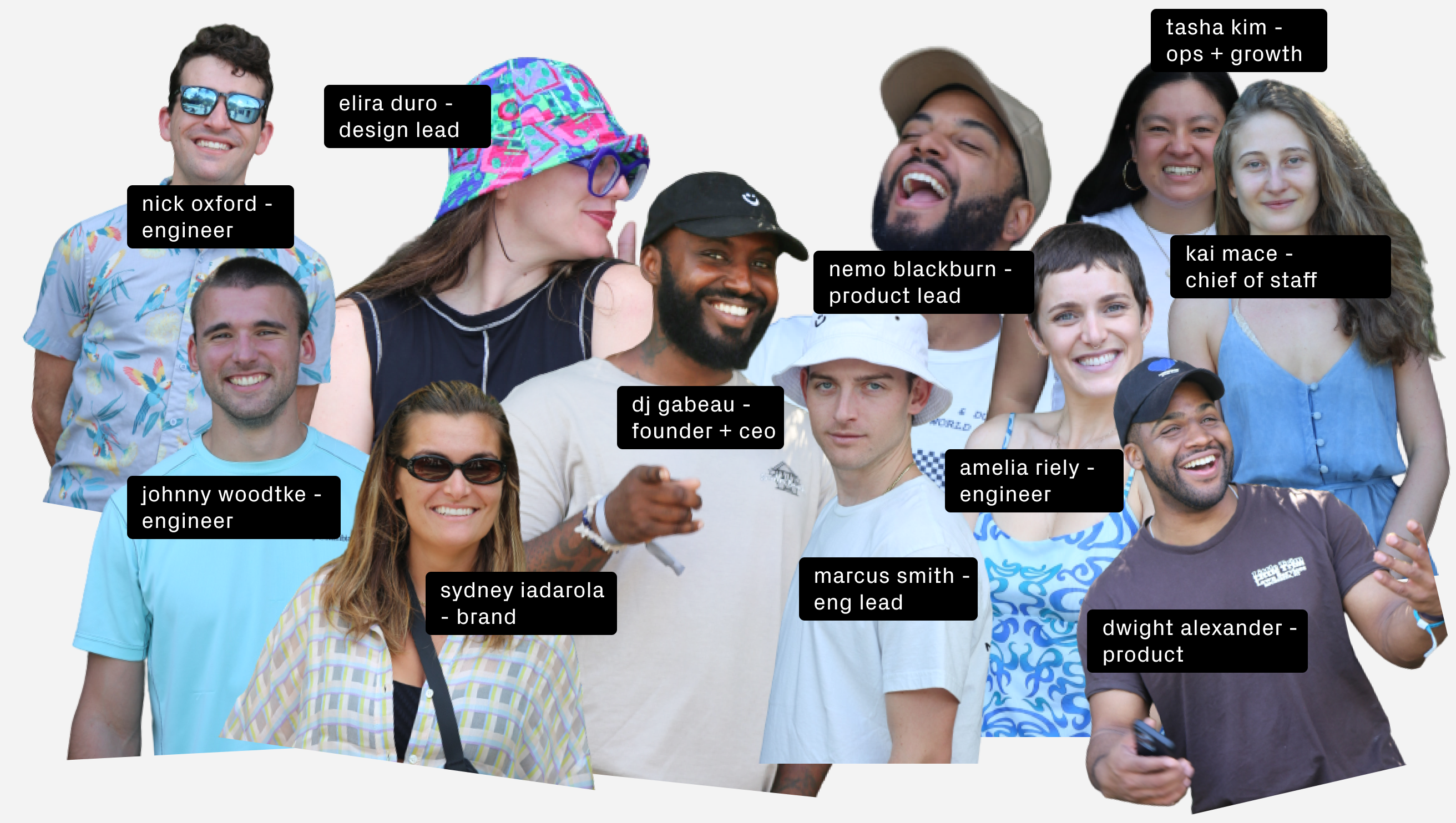 ---
primitives is building an online space for anyone to unleash their creativity. we empower anyone to discover new creators, mint and share work, build collections, and join communities. keep up with us on twitter, instagram, tiktok, and at primitives.xyz.