howdy! welcome to the second issue of moments, our bi-weekly newsletter. we took a week off for the holidays and we're so excited to be back. this is the space where we share product updates, news from our community, and a curation of the best things we're seeing online and offline.
as always, thanks for being here. you're among a select group of cherished friends, family, and early supporters. now, let's get into it :)
our focus recently has been on creating delightful ways to surface new content on primitives. a few things we've shipped recently:
new homescreen experience 📱 – excited is an understatement (!!) see all the top trending moments on primitives in one place, then dive in and discover new faves. huge props to our engineers ricardo and paul for their work bringing this to life
audio nft listening is live 🎵 – listen to your nfts right on primitives and unleash your sound. just connect your wallet and navigate to any music nfts you own (try it out with this sample)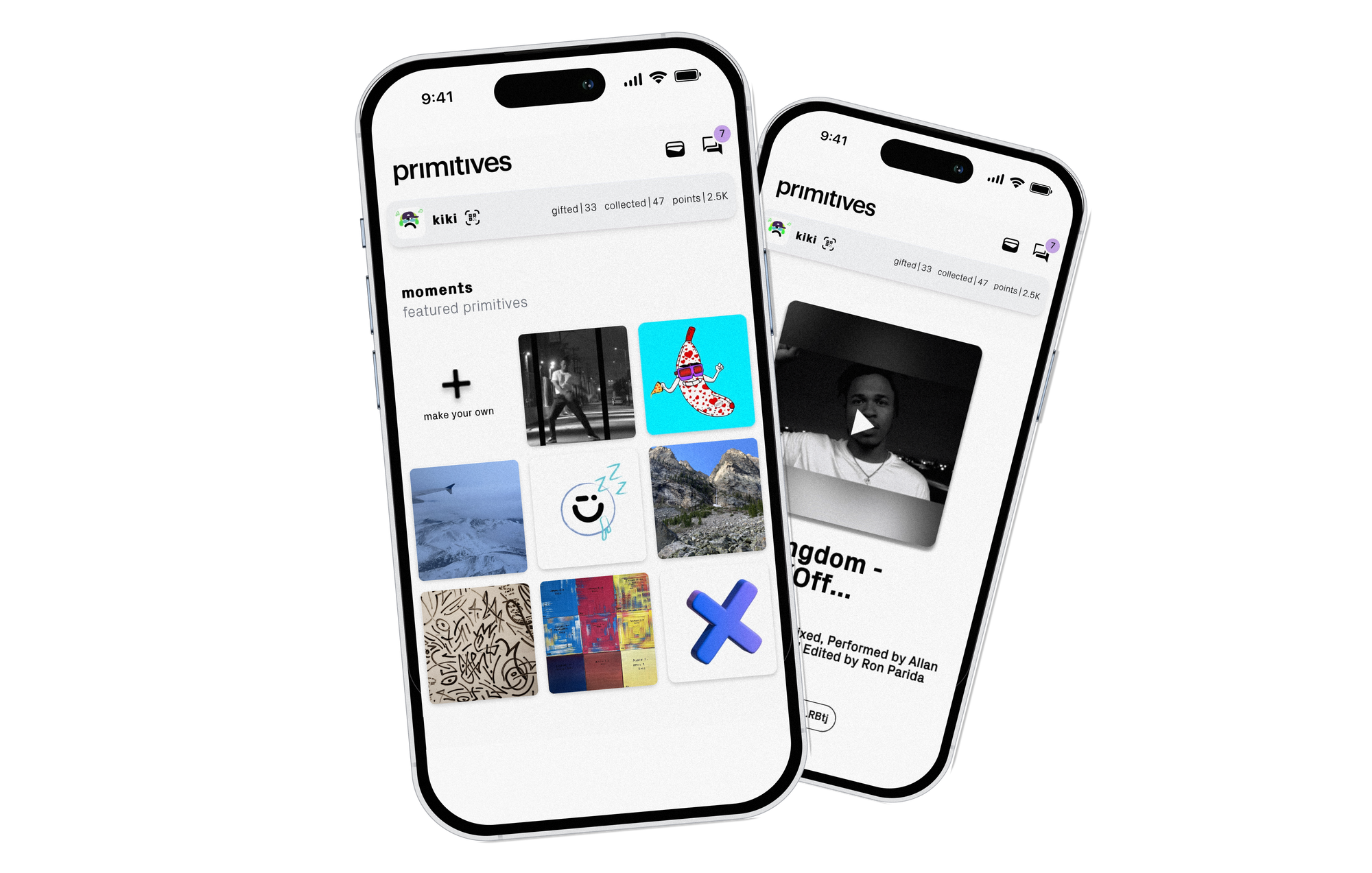 what's in our pipeline? we're working on revamped profiles, minting audio and video, and ways to monetize your creations. watch this space 👀
for this week's community spotlight, we're highlighting nikhil kumar. the definition of a multi-hyphenate, nikhil is one part technologist, artist, chef, and educator, among many other things.
outside of his day job at the solana foundation, nikhil has a personal art practice. one his recently minted moments on primitives, de[Posit], is the culmination of sixth months of creation. nikhil was kind enough to take us behind the scenes into the creation of his work.
as he explained, "on january 1, 2022, i began a new routine. i started each morning painting a canvas following a self-imposed set of pre-defined rules." nikhil would go on to create 15 different canvases over the next year, spending time each morning painting and rotating his works, building layers of of text and multi-colored paint. he noted that the works were meant to function like archives and "time capsules containing thoughts and anxieties, pain and happiness, ambitions and hopeless moments."
for us, nikhil's work is reminiscent of on kawara's date paintings, garnering meaning from their aggregation over time and the ritualism around their creation. part of the luminous colored squares also calls to mind alber's homage to the square. you can take a look at nikhil's moment here :)
we also wanted to give a shoutout to hunter lampson, who successfully claimed all of our holiday moments from 2022. hunter, keep a look out for some swag coming your way 👀
we took some time off for the holidays and our team traveled as far as patagonia, india, cape town, and the sunny shores of brooklyn (we kid, we love our own backyard :) we've also been spending a lot of time taking in art around new york. have a recommendation for something you think we should see? let us know! are you an artist (big or small!)? we'd love to meet you.
one nice thing about taking time away is having the space for reflection. one of our core beliefs at primitives is that beautiful technology can (and should be) be inspired by many things- both online and offline.
so, what's been influencing us recently? edward hopper's luminous paintings at the whitney, the infamous citibike boyz, a fresh track from lola brooke, and a peek into substack's growth strategy.

p.s. we just got a fresh shipment of primitives beanies in. want one? mint 10 moments and send us a dm! we'll make sure you have a way to keep your head warm this winter.
thanks for reading! we'll see you soon :) have any feedback for us? you can always feel free to hit "reply" to this email or slide into our dms.