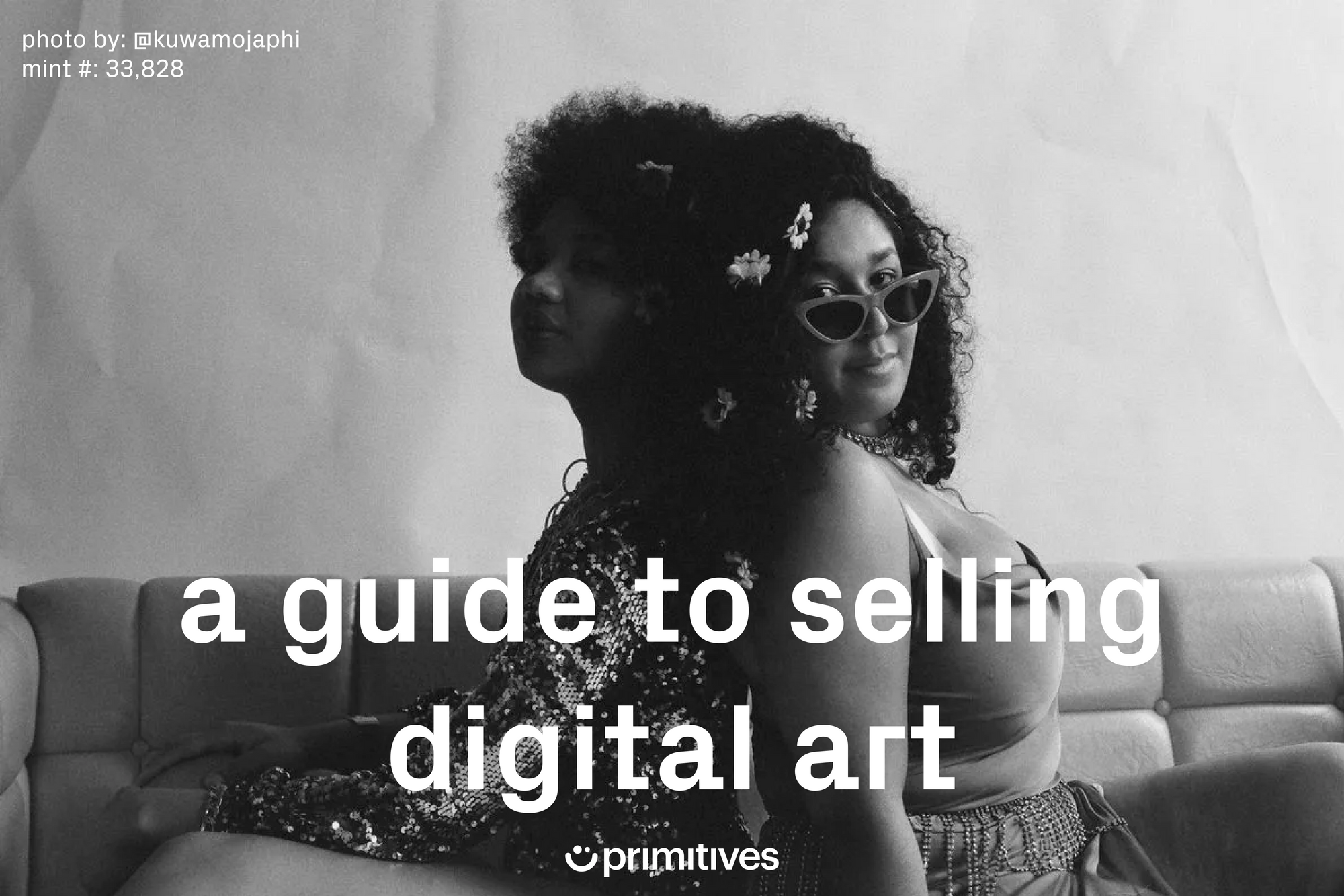 are you a creator interested in selling your work? these are some best practices we recommend at primitives to help you get started.
media
what kind of media can I upload?
primitives supports image, video, and audio formats. if your art is already digital, upload a high resolution export. if your art is starting in a physical form (ie a painting, drawing, garment, etc.) try to take as high quality of an image as you can (using your phone should be fine). focus on getting good lighting without reflections or shadows. it may help to use natural light as well.
we support most file formats across image, video, and audio. some common options are:
image: jpg, png, tiff
video: gif, mp4, mov, avi
audio: mp3, wav, aiff
do I need to make art solely to put on primitives?
you can mint any of your own original work that is new or that you've already created. feel free to read our copyright policy within our terms of service for more info.
editions & minting
how many editions of my work should I mint?
totally up to you! if you care more about reaching a wide audience, we recommend you select an open drop. if you're more interested in selling your moments and creating limited editions, then a closed drop is a better option!
your two options when minting on primitives are:
open drops – mint editions that can be infinitely collected without you having to approve each request. these can only be claimed for free.
closed drops – set a cap on the number of editions minted so that your work is made more scarce. you'll be able to set a price on your editions.
royalties
what are royalties and how do they work?
many sites (including primitives) let you set royalties for your digital art. royalties are a set amount of future sales that you, as the artist, will be entitled to earn.
for example:
if you set 5% royalties for a moment you mint if it later re-sells for $100, you'll receive $5 of that sale
if you set 2% royalties for a moment you mint, if it later re-sells for $500, you'll receive $10 of that sale
while you can choose any percentage of royalties for your work, we advise 2-5%. on primitives, we'll enforce any royalty percentage, but we cannot guarantee that external marketplaces will honor the percentage set. standard royalty percentages range from 2-5% and typically are honored, but primitives can't take responsibility for the changing nature of other platforms' regulations in regard to honoring royalties.
pricing & sales
what should I price editions at?
pricing is totally up to you as the creator! so far, digital and physical pieces on primitives have sold from $10 to $1,500. that said, it's your work, and pricing is completely up to you, always!
can a moment (nft) minted on primitives show up on other marketplaces?
you can send moments outside primitives if you want, but they will look best on primitives. also, primitives is the only place that has chatrooms! you can also list your moments on external marketplaces if you send them to an external wallet.
community
once i've minted my moments, how can i get more people seeing and collecting it?
to start getting into different communities on primitives we recommend you collect works from other artists you discover. by collecting different art, you're connected to those creators and their communities as well. you can also join some of our chatrooms for creators and collectors:
primitives is building an online space for creatives. we empower anyone to discover new creators, mint and share work, build collections, and join communities. keep up with us on twitter, instagram, tiktok, and at primitives.xyz