welcome to issue #03 of moments, our bi-weekly newsletter. this is the space where we share product updates, news from our community, and a curation of the best things we're seeing online and offline.
the past two weeks have been a crazy but exciting period for our team: heads down working on a new creator program, launching curation features, and growing our community.
as always, thanks for being here. you're among a select group of cherished friends, family, and early supporters. now, let's get into it :)

we've been working on ways to grow and foster an audience on primitives, launching features that empower creativity for everyone. a few things we've shipped recently:
view counts 👀 – quickly see how many people have viewed your moments on the discover page
creator community 🖌️ – we're launching a dedicated community for creatives - claiming this moment gives you full access. make new connections, ask questions, and get inspired
primitives selects 🏆 – we're opening the floor to our community to help select the best moments minted each week. tap over to our instagram story to vote for your faves :)
what else? we recently went through a brand refresh, with deep conversation about how to convey what we're building to the world. our favorite idea that came out of this effort is our new tagline, "see and be seen".

what does this mean to us? it's the idea that everyone has the ability to create things that deserve to be recognized, that the act of looking and curating is powerful. truthfully, it's a belief that we've always had at primitives and has informed our product decisions since day one. we're excited to continue growing primitives into a place to see and be seen.

our featured creator this week is gabi hartman. she's a brand strategist, writer, and of course, creator. her work explores the multifaceted angles of identity and culture through a unique, collage-focused approach.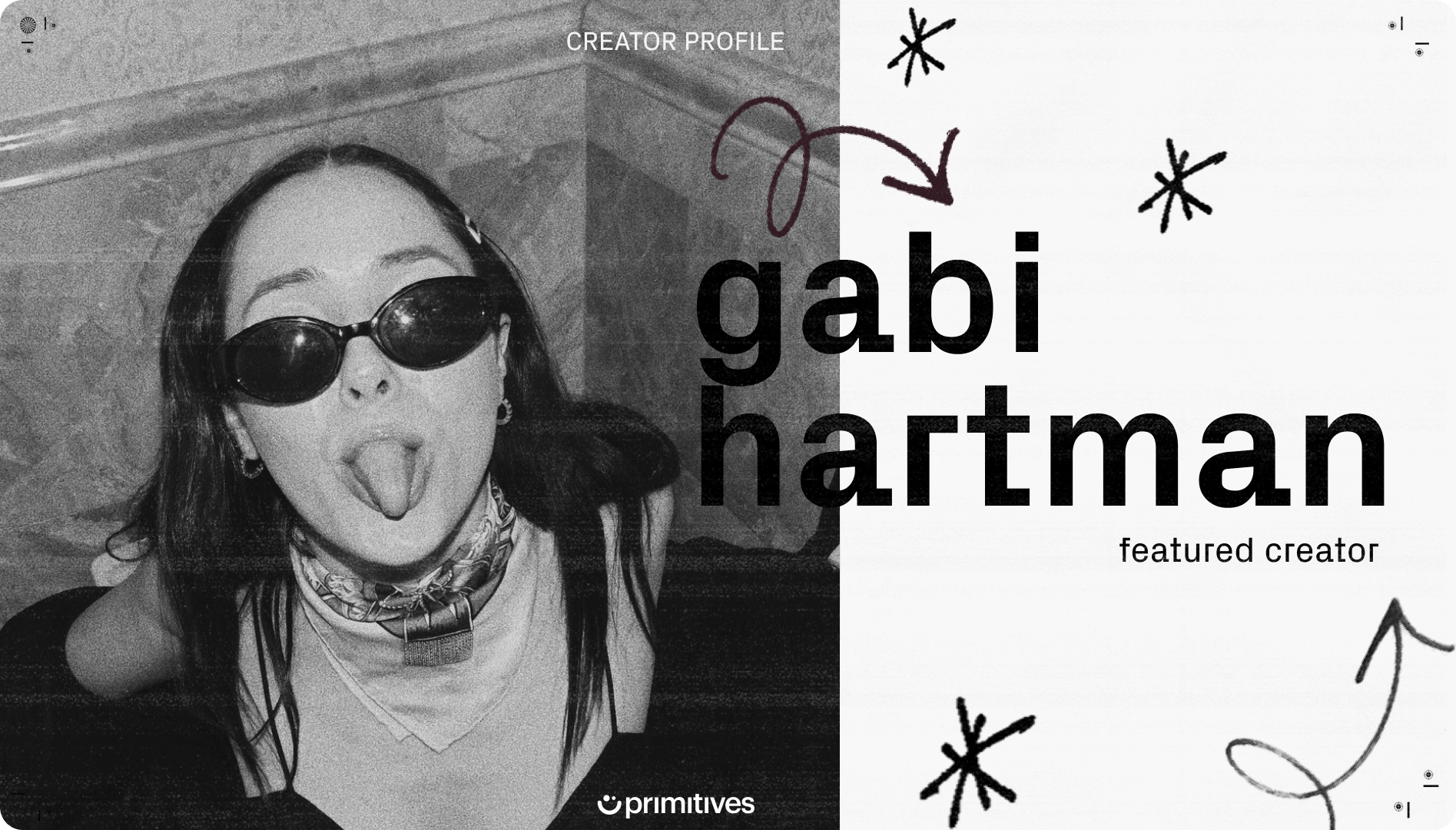 tell us a little about yourself
i'm from charlotte, north carolina but born in nyc. i've spent time living in la and new york, making art and being inspired by those places. it's hard to describe my creativity style in one word but maybe i'd say "gilded." [my work] is pretty on the outside, but a little messed up on the inside.
what does your creative process look like?
my works are created half through freehand drawing on a tablet, and half by tracing. I think about it in the way that a dj might take inspiration from something to implement it in her own set. for example, i'll sample a plate of eggs to trace it in a way that looks realistic but put it in a different context and color it differently. it's part sampling, part collage, part drawing. and i really like word play. i'll try to integrate different phrases or make fun of something through the combination of imagery and words.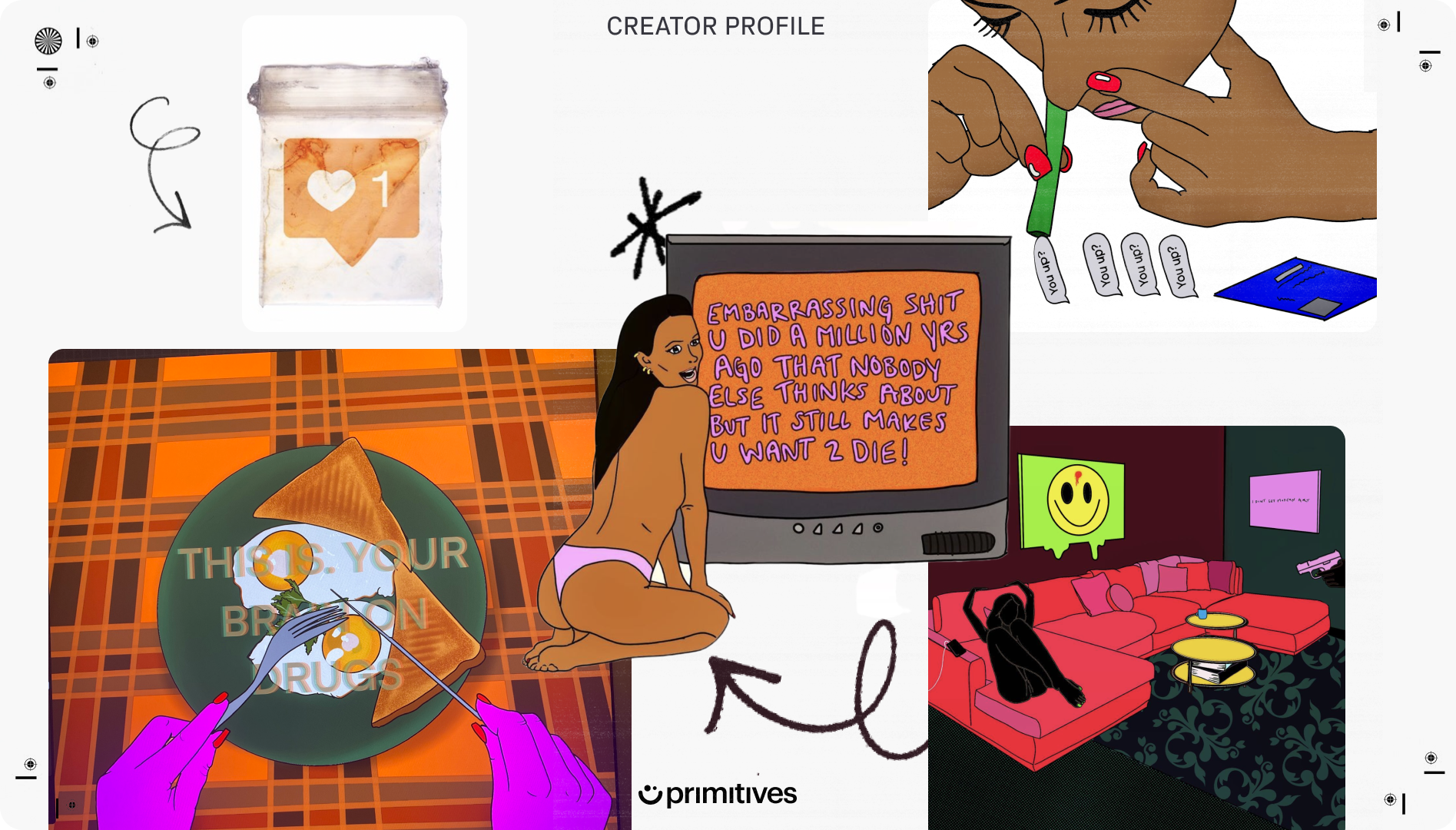 what inspires you?
i look for inspiration everywhere. specifically, i love referencing early 00s vibes, finding colors i like, and looking at vintage images.
finally, what drew you to primitives?
minting on primitives was really cool because i've never really known where to display my work. i didn't think i wanted it to live on my instagram forever, and primitives provided the outlet to share it with other creatives and get interest from people who would want to purchase or collect it.
want to collect a limited edition of gabi's work? we're excited to share two of her pieces: drugs and you up? . there are only a few copies of both so get them quickly :)

in case it wasn't apparent, we're kind of obsessed with music at primitives. we even have a slack channel where our team shares what we're listening to throughout the week. our interest in music and sounds has been informing a lot of how we've been thinking about minting audio nfts (these are coming verrry soon).
it only made sense for us to compile some of our favorite tracks into a playlist. if you'd like, you can take a listen here :)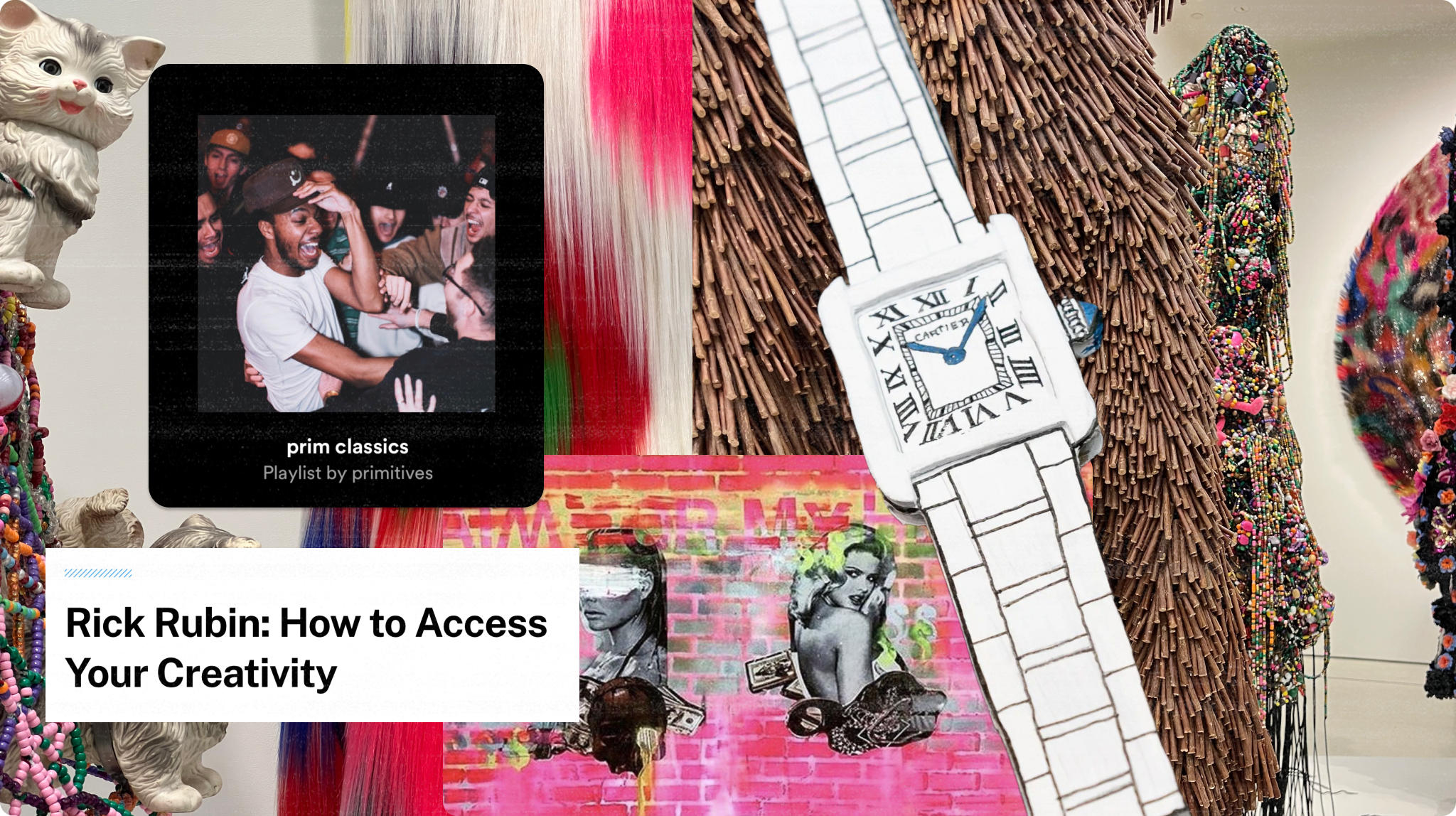 a few other things we've been loving: rick rubin's secrets to unlocking creativity, nick cave's transformative sound suits, and cardboard luxury watches.

p.s. congrats to hunter and oleksii for earning beanies last week. want one? mint 10 moments and send us a dm!
as always, thanks for reading! have any feedback for us? you can always feel free to hit "reply" to this email or slide into our dms.