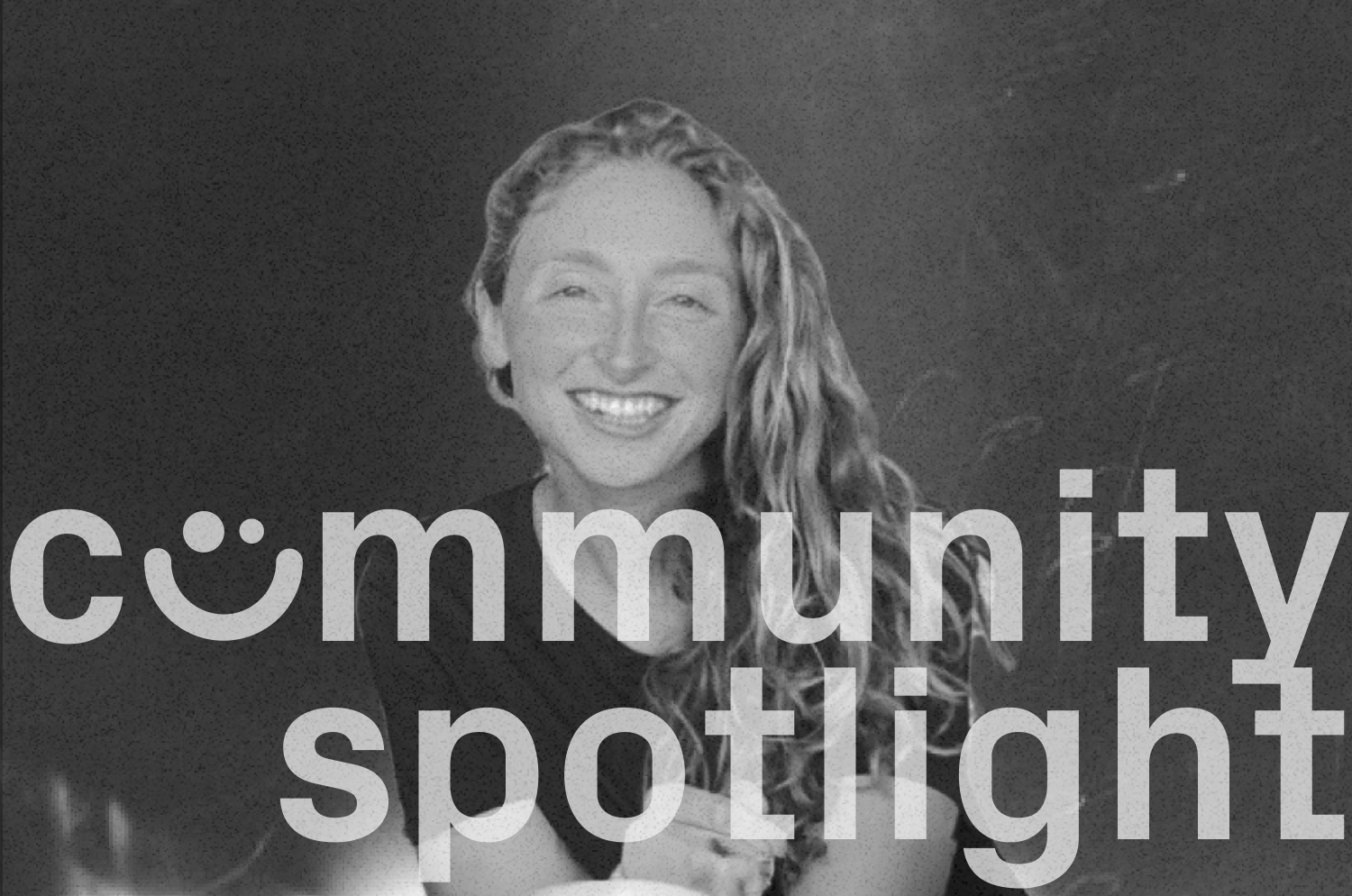 What does it mean to power the future of teamwork? we sat down with dani grant, co-founder and ceo of jam to find out. jam is a collaborative product development tool– put simply, a way for teams to create beautiful technology, faster.
recently, dani leveraged primitives to create a set of nfts that are unlocked through jam's referral program. we dig into the partnership, the book every startup team should be reading, and even virtual strawberries.
would you mind giving us a brief overview of jam?
yes! jam is on a mission to speed up software development. that's why we're building the fastest bug capture tool. it lets anyone at a company report a bug to engineering in seconds, in a way that actually helps engineers debug and fix issues faster.
at this point, there are over 10,000 people who use jam at some of the largest companies in the world like t-mobile, staples, dell, and even some of the fastest-growing companies like ramp.
what initially inspired you to come to primitives?
i was at an event thrown by union square ventures and there was a qr code up on the wall that said, scan this and get this event's nft, powered by primitives! it was such a magical and fun experience. i just loved it and i wanted it in our product!
i think primitives is one of the most fun and delightfully designed web apps on the internet. kudos to y'all!
what sparked the decision to leverage nfts as part of your referral program?
we're so grateful to everyone who has helped us share jam, and we wanted to give them something that felt fun and special as a way to say thanks. nfts are cute and fun, like sticker packs for the internet, so with Primitives' help, we minted a special edition jam nft pack - different variations of jam's strawberry logo, drawn as unique 8 bit-style punks, to send out to people who are helping us share jam.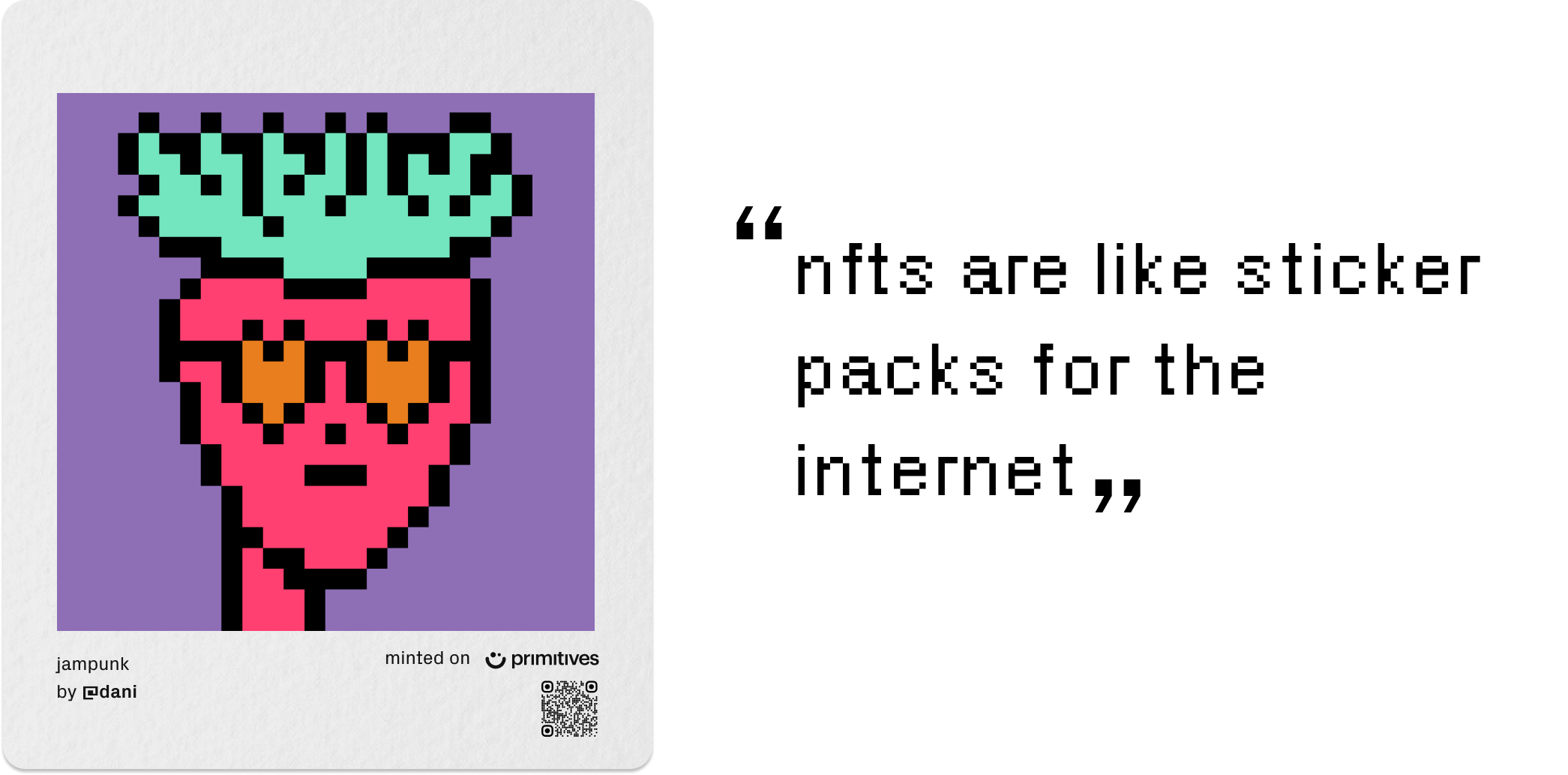 what was the process like to get everything set up?
overall, setting it up couldn't have been easier. primitives was so helpful - we just sent over a bunch of jpegs and they've since been minted into nfts.
the most interesting challenge was how to design the referral experience inside jam. nfts are fun and silly, and while we wanted something playful, jam is also a serious bug-reporting tool that people use in their daily workflows. we didn't want to undermine or disrupt that, but we also wanted to add a spark of joy, so designing it was pretty interesting. we ended up working with an amazing designer, stuart regan.
overall how has the referral program gone? have you seen new users come in?
the button to get your invite link is hidden inside the jam product, but people have found it and are signing up through these special invite links - so that's been quite cool. if i see someone sign up through one of these special sign-up links and they use jam for a couple of weeks, i reach out personally and send them a private primitives nft drop link.

what was the inspiration behind the name jam? how did you come up with the berry logo?
the berry is kudos to jeff anders. he's a super talented designer who made our logo. it's part strawberry, part rocket ship, and part "a" in the word jam.
we named the company jam because that's the activity we help with. it's that moment when you're in a design or bug jam as a team, and you're all trying to communicate what's on the screen.
give us a peek into your media diet - is there anything you've consumed lately that you really loved?
i love books that make you feel motivated, written by hardworking people about their adventures trying to make big things happen. there is a great book called red notice, which is about bill browder's attempts to start a fund during the downturn of the soviet union. the level of grit and motivation he has makes it so motivating to read. i think a lot of people in startups would enjoy reading it.

this interview has been lightly edited and condensed for clarity. you can keep up with dani on twitter, by visiting jam.dev, and on primitives (of course!).
---
primitives is building an online space for anyone to unleash their creativity. we empower anyone to discover new creators, mint and share work, build collections, and join communities. keep up with us on twitter, instagram, tiktok, and at primitives.xyz.